Jul 15, 2013
Old School House Museum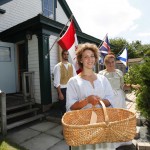 Open by appointment September 2 to May 31 Monday through Friday 11am to 4pm
One of Canada's best kept secrets, the largest free Black settlement in the 1780′s.  Where people voted with their feet for freedom.  This unique historical site is nestled in beautiful Birchtown Bay on the western shores of Shelburne Harbour, the third largest natural harbour in the world.
Come and enjoy a guided tour, search for your ancestral roots and learn about these courageous Nova Scotians.
Admission is $3/person.    
Mother's Day Cheesecake Festival
Sunday, May 11 at 2pm at the Birchtown Community Centre
Let's celebrate Mothers on May 11th by bringing Mom out to our Annual Mother's Day Cheesecake Festival.  Mom can enjoy a piece of cheesecake, sip on a tea or coffee and listen to the smooth sound of country and western singer David Burbine.  Door prizes to be won.  Festival starts at 2pm at the Birchtown Community Centre.
Admission is $7/person.  Individual slices of cheesecake for take out $5.
Mothers Day Cheesecake Festival May 11 2014 
CHANGE IN MAILING ADDRESS
Please note the mailing address of the Black Loyalist Heritage Society is changed to the following:
98 Birchtown Road
Site 10, Mod 3, Comp 14
Shelburne, NS
B0T 1W0
Our civic address remains the same.