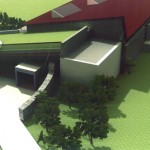 The Black Loyalist Heritage Centre plans were developed by Christine Macy of the Architectural Firm of Filum Ltd and Peter Henry of the Architectural Firm of Peter Henry Architects. Funding for this initiative was provided by Canada Cultural Spaces Fund, Department of Canadian Heritage and Nova Scotia Economic and Rural Development.
The design will not only highlight Black Loyalist history and heritage, but it will also encompass aspects of community development and tourism. The Society plans to create an environment for the development of heritage-educational programs and resources. The heritage centre will be a multi-purpose facility including an exhibit centre, community board room and kitchen. It will accommodate core and special programs as well provide space for multi-media technology, the Society's administrative offices and maintenance equipment storage.  There will be a gift shop to retail Black Loyalist collectible and sell products on consignment from the general Black Community.
The BLHS officially announced the naming of the Black Loyalist Heritage Centre – presented by Emera at the Ground Breaking Ceremony on June 27, 2012. "Emera and its shareholders are extremely proud to support our local communities" says Chris Huskilson, President and CEO of Emera Inc.  "The Black Loyalist story is compelling and inspiring, and celebrating this history nurtures the vitality of the community as a whole."
It is anticipated construction of the centre will begin in April 2013 and will be officially open to the public in July 2014.